midorisour
gave me
J
!
You know how it goes. Comment, and I'll give you a letter. Then you'll have to list ten things you love that begin with said letter. Post your list in your LiveJournal, and give out some letters of your own.
1. Jon Bon Jovi
I don't really need to explain this one, do I?



2. Johnny Depp
He's been my favorite actor since I was pretty young and I saw Edward Scissorhands. Since then, no one's ever really been able to compare.



3. Jonathan Rhys Meyers
One of my favorite movies is Velvet Goldmine, which is when I first saw him. I especially loved him when he did a lot of weird, underground roles. I think he is unbelievably gorgeous. Those eyes are amazing. I'm totally addicted to The Tudors because of him.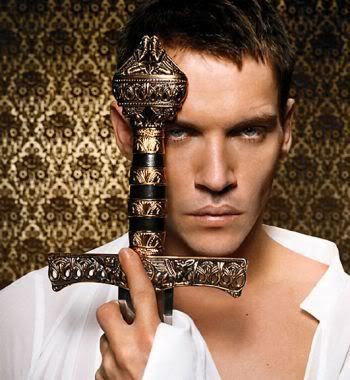 4. Jem and the Holograms
One of my favorite things as a child. It's like one of those little kid things that I've never really let go of. All of my friends will still buy stuff for me off of Ebay and whatever because I love Jem so much.

5. Jay Leno
What can I say? I love the man. I used to look forward to watching his show every night. Unfortunately, since I'm a big baby now, I hardly ever stay up late enough to watch it anymore. But it was just one of those things that always made me smile. Usually I would just stay up through the first 25 minutes then pass out but it seems I can hardly ever even do that anymore. I'll be devastated when he leaves next year. :(

6. Jordan and Jonathan Knight
Yeah, I'm a NEW KIDS girl -- WHAT OF IT?! ;)

7. Jonathan Papelbon
I'm a huge Red Sox fan and he's my favorite player on the team. He's a bit of a crazy bastard and those are usually the ones that stand out to me, haha.

8. Jewelry
No, I don't mean that in a really shallow way. I'm all for cheap stuff. I just like to wear extra stuff all the time. I think outfits alone are boring so I'm one for wearing jewelry to jazz things up a little.

Hmmm....

I'll have to come back for #9 and #10....
EDIT: Also, a couple weeks ago I had talked about how I chopped my hair off. This is the only picture I really have but I figured I'd throw it in here:
(Margo, Me, Allison, Angie, and Niki.)
It doesn't really show the color. In person, you can see more of the red tones. Actually, they call it "cinnamon", haha. But as you can see, I'm no longer blonde and it's shorter than it's been in years! It's kinda weird actually but I needed a change.
Current Mood:
amused